State EMA updates expected weather from tropical storm
Published 7:58 pm Thursday, June 17, 2021
Jim Stefkovich, meteorologist with the Alabama Emergency Management Agency, provided an update late Thursday concerning the weather associated with the now-formed tropical storm in the Gulf of Mexico.
Although landfall will likely be in Louisiana very early Saturday morning, realize the cone of uncertainty is where the CENTER of the system will be.  Actual impacts will occur well outside the cone, including parts of Alabama that extend well inland.
The biggest impact will be very heavy rainfall, beginning near the coast Friday afternoon, and lasting into Sunday.  A frontal boundary will move into the state Monday with another round of heavy rain.
Rainfall totals from Friday through Monday will be generally 4-6 inches, with 6-8 inches near the coast.  In addition, it is not out of the question for some spots to see 10+ inches.  This could lead to flash flooding.  Some coastal flooding is likely Saturday morning in the typical flood prone areas.
A few tornadoes are possible on Saturday.
Some gusts up to 50 mph are possible near the coast by early Saturday morning, with 30-40 mph well inland during the rest of the day.  This could down some trees which could fall into power lines and cause electricity disruptions.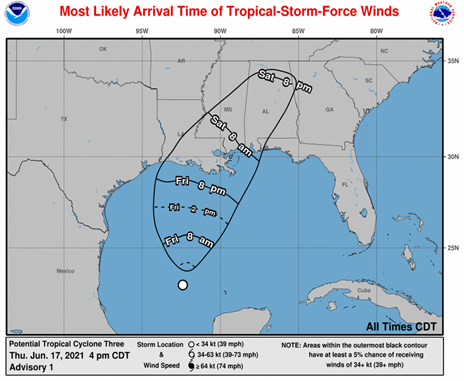 There are still changes that could occur with this system, including both intensity and landfall.  Keep up to date with critical weather information from the National Hurricane Center https://nhc.noaa.gov , the National Weather Service https://weather.gov , your local Emergency Management, and/or a trusted media source.
All action plans should be completed by Friday morning.
More News